Today's gift guide covers Confirmation gifts. In most places in the U.S., those receiving Confirmation are in their early teens, so I looked for books and other items appropriate for that age group. Devotional items of their chosen patron saint are always nice, as are other inspiring books and media. A special piece of jewelry or other keepsake is also a lovely way to remember this special day. These nine gifts range in price from $2.99-$34.95.
A very simple but important gift would be a copy of the Youcat

, the new youth version of the Catechism of the Catholic Church. It is $10.68 right now on Amazon, or $9.18 for the Kindle version.
If you're looking for a more original book that your recipient might not have encountered, try
Ablaze: Stories of Daring Teen Saints
for $8.02 from Amazon. It includes stories of eight modern and historical saints and holy people and sounds very inspirational.
Medals or books about their Confirmation saint are always nice, but another option could be a movie! In recent years some more high-quality and sophisticated films about saints have been produced. Check out the following titles for some ideas: St. John Bosco: Mission to Love, Pope John Paul II
, Maria Goretti
, and Saint Rita
. Ignatius Press
also has a section of saint movies with more titles.
If your gift recipient has a Smartphone, what about getting her some Catholic apps? I am no expert in this category, but I did find some helpful links. Here are the 5 finalists in the About.com readers choice awards for best Catholic app, and here is a list of 13 essential Catholic apps. Or check out these reviews of rosary apps. This might be a great way to help a young Catholic integrate the faith more into her daily life.
For both guys and girls, wearing a cross or medal is a great way to show their faith. This
Small Crucifix on Chain – Sterling Silver on 18 inch chain
is a classic piece that would work for either gender. It is $34.95 from The Catholic Company.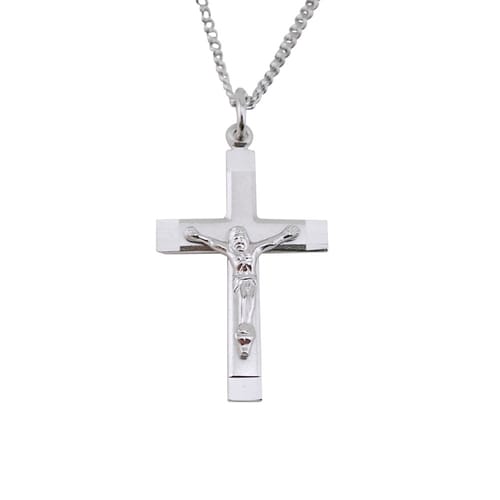 There is of course a ton of inspirational jewelry available for women, so I looked for a couple of items that are a little bit unique. I love this Miraculous Medal Rose Slide Locket for $18.00 on Etsy. My friend in college had a necklace similar to this, and I loved the unique way of presenting the Miraculous Medal.
Another lovely piece of jewelry is this Holy Spirit Tennis Bracelet from Catholic Child for $21.95. I like this because it could be a subtle reminder to a young woman of the presence of the Holy Spirit, even after the Confirmation celebration is long over.
To enter this giveaway, simply leave a comment on this post telling me another item that you love from Catholic Child. You must answer this question to enter. Please include your email in your comment if it is not available in your profile. For extra entries, you may do any or all of the following, for a maximum of 5 entries in total (please leave a separate comment for each):
2) Follow Catholic Deals by email.
3) Like Catholic Deals on Facebook.
4) Follow Catholic Deals on Twitter and tweet about this giveaway. You can use this link in your tweet:
http://tinyurl.com/7w5yegf
(This entry can only be done once; no credit for daily tweets.)
This contest runs for just one week and ends on Wednesday, May 2, at midnight. I will choose the winner randomly and notify him or her by email, and he or she will have 72 hours to respond. Good luck!
This post contains affiliate links, which help support this site.